Eastside Community Group Celebrates Annual Fingerling Sale | Free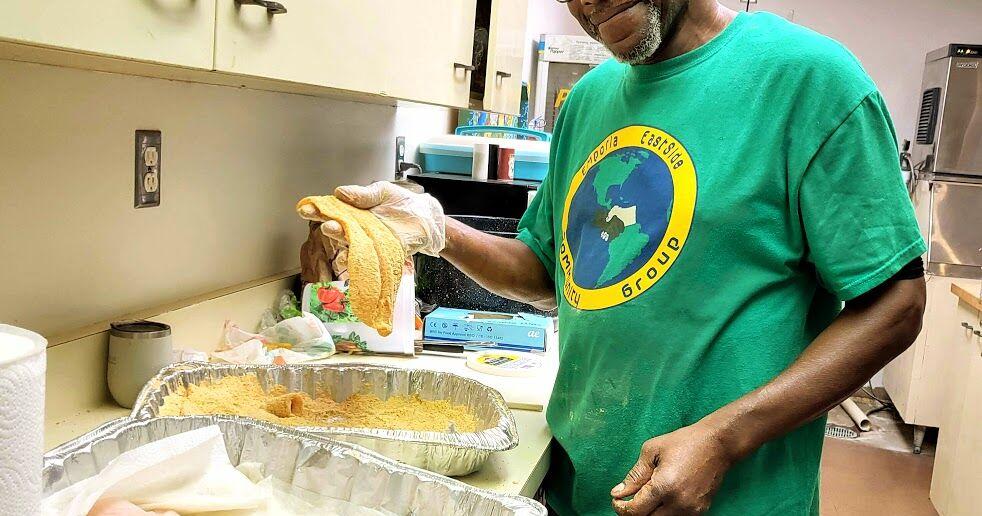 The community support was so great that they ran out of fish!
Saturday's Emporia Eastside Community Group Fish Fry, held at the Emporia Rec Center, was a resounding success.
Andre Cox, Shyra Surmeier and Willie Finch are members of the Eastside Community Group and were busy helping set up and prepare the fry.
"I'm just a helping girl," Surmeier said. Her daughters, Quiarriah, 6, and Xylah, 3, also helped by setting up chairs at the dining tables. The event is truly a family affair; The event organizer, Al Slappy, is the father of Shyra Surmeier.
"I'm just one of the group that started on East Street," Finch modestly noted.
"The catfish is very good," Cox said. A supportive audience enthusiastically accepted.
The group's Facebook page was posted early Saturday afternoon. "We close early!!! Your support has been noticed. We're out of fish!!!"
Slappy explained that "we behave like a community organization. We helped build and improve the park at Ninth and East. Part of our group was born and raised here. Another part of the group attended and graduated from Emporia State University. They stayed and raised their family here.
"We use this park all the time. Many are unable to return home for the entire vacation and use this park as an intermediary. And we started doing things in the community. Our goal is to make our community better educationally, spiritually and socially.
The Emporia Eastside Community Group hosts frequent fundraisers and hosts various community events throughout the year that raise both money and awareness for Eastside Park as well as scholarships. Formerly known as 9th & East Park, the park is located south of 9th Avenue between East Street and Lakeview Street, bordered on the east side by a rail right-of-way. The park land was leased to the Santa Fe Railroad in the 1970s.
Originally intended as a neighborhood park to be developed by nearby residents, the neighborhood sat dormant for years. The situation changed with the formation of a citizens' association with the aim of developing the site into a functional park. The park's name has officially been changed to Eastside Memorial Park and improvements continue to be made through the efforts of the Eastside Community Group.
Nearly two decades ago, two lots on East Street were purchased by an anonymous donor and added to the park. A grant was obtained to provide financial assistance with improvements that include a basketball and activity court, shelter, comfort station, playground, sidewalks and off-street parking. Thanks to the dedication of the Emporia Eastside Community Group and its ongoing fundraising efforts, this area provides valuable recreational infrastructure to the citizens of Emporia.
Slappy concluded, "The little we can do can help persuade others to do a little. Together, we form a better community.
Reservations can be made for the Eastside Memorial Park shelter by calling 620-341-4365, Monday through Friday, 8 a.m. to 5 p.m.