Empowering youth and a community towards connectivity through cycling – Detroitisit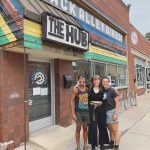 Back Alley Bikes / The Hub is not just a bike shop. Not by far.
Since 2000, Alley bikes has worked to create educational and cycling opportunities for young people, connect the community and inject a DIY mindset to empower all towards the limitless limits and childlike joy that cycling can bring.
According to Jai Whitworth, Head of Back Alley Bikes and the Hub, "In this car-centric environment, cycling opens doors and blurs boundaries and limitations. This allows people to move, connect and explore in a much less inhibited way.
Mechanic for Back Alley Bikes and the Hub, Jackie Brown goes on to say, "I believe bikes are truly a liberating tool for our communities. They increase independence, open up opportunities for us, bring joy and connection, and allow us to relate better to this earth.
As an avid cyclist who spends a lot of time in the bike saddle myself around town, I never fully understood who and what around The Hub and Back Alley Bikes. Here is their story…
THE WHO, WHAT AND WHERE
Alley bikes started as part of the detroit summer activist-led program Grace Lee Boggs as a means of transport for the young participants. From the start, the store had a strong community focus, opening doors to the neighborhood two days a week so they could repair their bikes or even win a new one.
By 2003, the store had outgrown its small room during the Detroit summer, and this initiative changed direction. So Back Alley Bikes became its own entity and moved to its current location on Cass in partnership with Cass Corridor Neighborhood Development Corporation (CCNDC).
Since then, a collective of BAB volunteers have started and run many free programs, including Youth Earn-a-Bike and Adult Earn-a-Bike, in which the participant chooses a donated bike to repair, learns, and works to fix it. , then keep it as his own.
The space has also hosted adult repair classes, bike art workshops, "mechanics-in-training", an apprenticeship program, holiday bike giveaways, community partnerships, group rides and a "walk-in community" to make repairs. All free to the public and supported by fundraisers.
In 2007, BAB applied for and obtained a grant from the DALMAC Fundas well as one from REI, and in the spring of 2008, the Hub has opened. The store refurbishes, repairs and recycles bikes, with 100% of profits going to Back Alley Bikes to fund its programming. The hub occupies a building on the Cass Corridor with Bike Alley bikes attached to the back of the building and accessed via an alley.
Several years of successful programming, partnership and community connection ensued.
Fast forward to 2021, COVID and eventually some sort of one-year hiatus, where Back Alley Bikes halted and then closed in January 2022, the Hub limited activity to two days a week and management has changed hands.
New Director Whitworth came on board in April 2021 and along with the team and volunteers, have been working on the consolidation and fundraising to reopen the doors, which they expect to happen in the coming months.
BIKE INTO THE BLIZZARD
Bike the Blizzard is BAB's biggest fundraiser in ten years. Always a weekend in February, the event gets cyclists doing what they love – riding, connecting, exploring – but in the freezing cold!
This year brought snow, ice, 15 degree weather and smiling faces ready to have fun and raise funds.
2022 blew last year's events out of the park in every way.
Said Brown, "As much as it was a fundraiser, it was also an event to celebrate the breadth of cycling culture in Detroit and a great weekend of connecting for the growing BAB community. ."
Whereas previous years involved a sort of 24-hour bike-a-thon – with riders free to choose their own routes, this year's event involved a two-day period comprising 12 pre-planned, themed group rides designed to highlight different aspects of the city, a scavenger hunt, a children's ride on the Dequindre Cut, and multiple sponsors.
The event raised $23,000 to help reopen the doors of Back Alley Bikes.
WHAT WILL THE FUTURE BRING?
According to Jai, more of what has made Back Alley Bikes successful in the past – and more.
"We are working on curriculum and curriculum development and will start with the Youth Earn-A-Bike program. Beyond that, we are very focused on developing an inviting and welcoming environment for everyone, even if riding a bike, repairing or restoring a bike is unfamiliar.
"We're looking at having ladies/trans/fem nights and other events to make everyone feel comfortable," says Whitworth.
A common goal between Whitworth and Brown is to break down the barriers of bike repair bullying and turn them into empowerment.
As a rider myself and as someone who really learned to work on my bike, it's a joy to support others in this as well. There is also a vibrant energy when people help each other solve problems and share knowledge.
And, as in many cases, Detroit brings its own unique style, Whitworth stating that "the bikes we walk in and out of the store are so 'Detroit' infused with wheel lights, lower seats, straight handlebars, springs music and more."
To that we say, keep riding and do great things for the kids and the city, Back Alley Bikes!