Franklin executives assess development potential on southern outskirts of town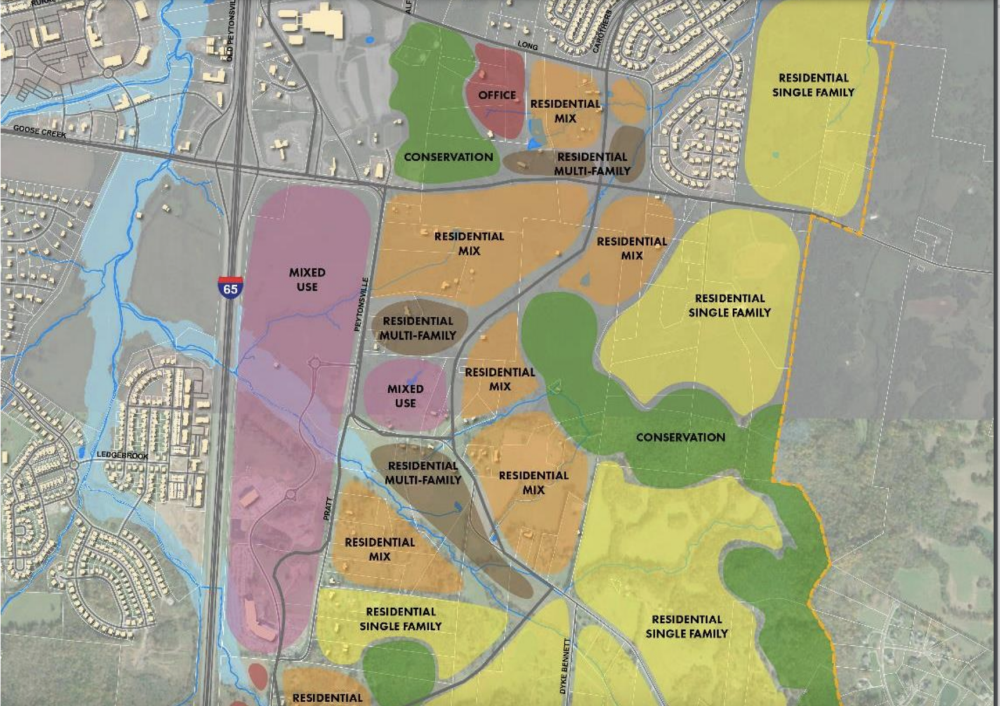 The City of Franklin is investigating the potential development of a piece of land called the Goose Creek Basin at the southern edge of the city's urban growth boundary. The graph shown illustrates a potential distribution of development varieties that could be supported. (Courtesy of the City of Franklin)
A study of the environmental and financial challenges of future development scenarios for hundreds of acres of land in the Goose Creek Basin area on the south side of Franklin will be considered by the Council of Mayor and Aldermen and the City Commission of zoning of the city on March 24.
BOMA and the Municipal Planning Commission will hold a public meeting at 5:30 p.m. on March 24 in the council chambers of Franklin City Hall, 109 Third Ave S., Franklin, to hear an update on the coordinated study of the Goose Creek Basin, according to the city. The study began last year to determine a service plan including necessary transportation, sewers and other infrastructure needs necessitated by the varying densities of development in the area.
The consulting team of Rundell Ernstberger Associates, CDM Smith and Tischler Bise is Additional public consultation sessions are also expected to give residents an opportunity to weigh in on the potential development.
An initial analysis by the team outlines two possible development scenarios related to a $36 million Long Lane Old Peytonsville Road East-West Connector over I-65, slated for completion in 2026.
The first option offered is a town center development at a future interchange constructed at the junction of the Carothers Parkway Extension and Peytonsville Road supporting higher density along Carothers Parkway, Long Lane and Peytonsville Road.
The second includes more intense development west of the Carothers Parkway Extension and north of the proposed East-West Connector with limited office and condominium development along the highway.
As of 2019, the city has annexed 815 acres in the Goose Creek Basin that have not yet been thoroughly assessed under the city's Envision Franklin long-range planning document for specific forms or levels of development that are achievable.
The consulting team is should also hold additional public hearings to give residents an opportunity to weigh in on conclusions regarding acceptable levels of development. For more information, visit here.