Penn' State Community[comes] Together as Americans in 9/11 Commemorations | University Park Campus News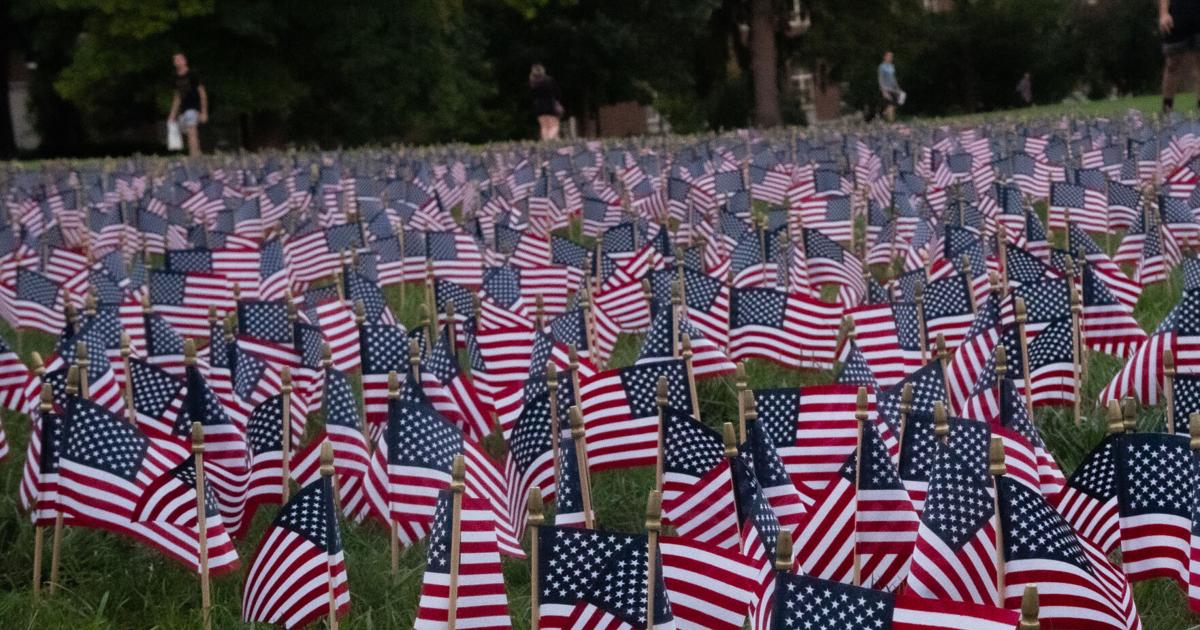 On Thursday, nearly 3,000 flags were displayed on the Old Main Lawn to commemorate those who died during 9/11 – 10 flags were placed at the front to recognize Penn State alumni who died in the incident.
Penn State College Republicans held two events to commemorate those who died during 9/11 on Thursday and Friday.
Penn State College Republican Special Events Director Ryan Klein hosted both events.
"I think it's a great way to bring people together in the Penn State community, whether they're Republicans, Democrats or Independents," said Klein (a sophomore in political science).
On this day, 21 years ago, the nation "came together as Americans," Klein said.
Penn State Republican Chairman Matt Soska opened the ceremony.
"I've been with this club for four years, and it's by far the best thing we do every year," said Soska (senior political science and philosophy).
Justin Pavonarius, the club's vice president, said he thought it was important for the group to "remember and remember" those who died on 9/11 – according to Pavonarius, the Penn State Republican group is the only club to hold a 9/11 ceremony. .
During the ceremony, members spoke the names of Penn State alumni while laying a rose next to each of the flags.
The following Penn State alumni died in a 9/11 incident – ​​Kermit Anderson, Patrick Dwyer, Michael Ferugio, Scott Hazelcorn, Howard Kane, David Kovalcin, Michele Nelson, Michael Pescherine, Jean Roger and David Suarez.
Representative Fred Keller of Pennsylvania's 12th congressional district spoke at the ceremony Friday night.
"The land of the free and the home of the brave because you can't be free unless you're brave," Keller said, recalling lines from the national anthem. "We need to remember what happened in our history in order to remember what is so special about being an American."
Keller said seeing people come together to remember and acknowledge the past shows a brighter future for the United States.
"When you see the group of individuals coming together now, you see the good in America and the good in the next generation, ensuring that the legacy of those who fought so hard is truly recognized," said Keller.
Members who were present to unfurl all the flags, such as Courtney Bove, said her father witnessed 9/11.
"Unfortunately, people forget even if they say 'never forget,'" Bove (junior-criminology) said.
Most undergraduates currently enrolled at Penn State were too young to remember the attacks.
"I just hope people remember 9/11," Pavonarius (senior political science and economics) said.
For Soska, he said he believed that regardless of their connection to the event, people could find out more about the events of 9/11.
"No matter where you were that day," Soska said, "you can make a 'never forget' promise."
MORE ON-CAMPUS COVERAGE
For Penn State student Dominique Tirado Solano, being in a classroom full of people who don't have…