Thalhimer Realty Partners maintains ongoing transactions under the Diamond District pitch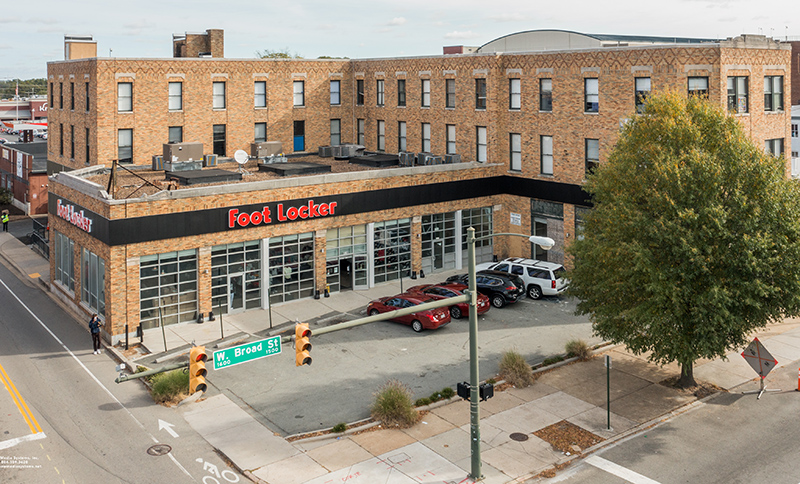 In addition to being a finalist for the city's proposed Diamond District redevelopment project, Thalhimer Realty Partners has remained busy this spring with an acquisition, sale and grand opening over the past few weeks.
Last month, the Henrico-based development arm of Cushman & Wakefield | Thalhimer sold the 1510 Lofts at 1510 W. Broad St. for $5.8 million. He has also purchased about four acres of land in the historic district of Petersburg, where he plans a 78-unit apartment project.
TRP also recently began demolishing the former Wesco Distribution warehouse at 2902 N. Arthur Ashe Blvd. to make way for a seven-story building with 272 units. He is working on this project with Crescent Communities, based in Charlotte, North Carolina.
The 1,510 Lofts, which house 17 apartments and a Foot Locker store on Broad and Lombardy streets, were purchased by JDL Management, a New York-based investment firm headed by Richmond native Justin Rubinstein.
In addition to working as a real estate agent for Compass, a huge brokerage firm that recently entered the Richmond market, Rubinstein has run JDL Management since 2010 with Daniel Levine, a childhood friend who is also from Richmond but is now in Australia to work as an accountant. .
Rubinstein said JDL's portfolio consists of five buildings and the 1510 Lofts deal was the product of a 1031 swap following the sale of some apartments they owned in Brooklyn.
"Richmond is a city we know and know well. I think he has a lot of potential with places like Raleigh, Nashville, Austin and Charleston. It's kind of in that group," Rubinstein said.
The apartments at 1510 were fully leased at the time of the sale, and Rubinstein said they are currently negotiating a lease with a commercial tenant to take the remaining 5,000 square feet of commercial space. Rubinstein said no major changes are planned for the building.
TRP purchased the 1510 Lofts in 2017 for $4.6 million, and they were appraised by the city this year at $4.9 million. TRP was represented by Bo McKown and Cathy Spangler of Cushman & Wakefield | Thalhimer's Capital Markets Group and Nathan Shor, Andrew Nusbaum and Carter Wells of SL Nusbaum represented JDL Management.
The 1510 Lofts are located across North Lombardy Street from the 12-story Ascend RVA Tower, currently under construction.
Near The Diamond, TRP and Crescent Communities recently began demolishing the Wesco Distribution building at 2902 N. Arthur Ashe Blvd. An 83,000 square foot building with 272 apartments dubbed Novel Scott's Addition is expected to rise in its place. Although the project does not include any commercial space, it does boast some non-traditional amenities such as a library, fireside lounge, garden dining room and speakeasy.
TRP bought the property from Novel Scott's Addition in 2019 for $3.7 million but, before the Wesco building was demolished in May, it sold it for $6.7 million to a joint entity in which it is included with Crescent and ParkProperty Capital, an investment company that is a financial partner in the project. ParkProperty is headquartered in Atlanta and Hamburg, Germany.
The 3.2-acre site is on the corner of The Diamond, which TRP is vying for the right to redevelop as part of a team including Republic Properties Corp., Loop Capital and others. Their team is one of three finalists in the 67-acre project that will see the Richmond Flying Squirrels get a new home.
Finally, TRP recently spent $875,000 on 4.2 acres of land in Petersburg to make way for another multi-family project.
Located at 510 High St., 400 Commerce St. and 100 Lafayette St., the newly acquired land will make way for new construction of 78 units. The first phase will consist of 14 duplexes, while the second phase will be a building of 50 apartments reaching up to four floors.
It is unclear when TRP plans to launch the project. TRP Director Matt Raggi confirmed the plans but was unavailable for further comment at press time.
The lot is just down the street from TRP's recently completed Market Street Lofts building. The former textile factory houses 106 apartments. Raggi said they were renting Market Street Lofts now.
Garrison Gore, Charles Wentworth, Hank Hankins and Victoria Pickett of Colliers International represented the seller in the Petersburg deal.