West Harrison boys set to make history on Monday afternoon | Sports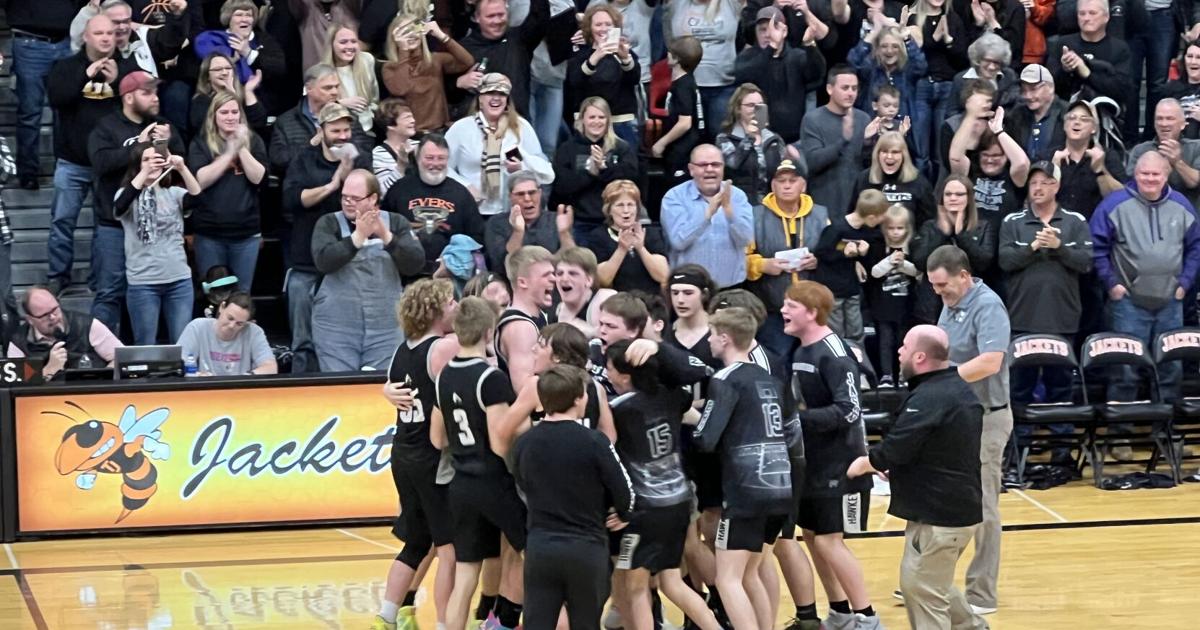 (Mondamin) — For the first time in school history, the boys from West Harrison take to the big stage at the state basketball tournament on Monday afternoon.
The sixth-seeded Hawkeyes (22-3) meet third-seeded Remsen, St. Mary's (24-0) in a Class 1A state quarterfinal at 3:45 a.m. on KMA-FM 99.1.
"It was just teamwork," Hawkeyes head coach Rowdy Evans told KMA Sports after an understate final win over AHSTW. "Our effort never wavered. The mutual trust of these boys has not wavered either. They just kept fighting and fighting.
While Evans' thoughts came from their state qualifying win, that might as well have described their entire season. That includes a thrilling 58-57 1A second-round win over Tri-Center who needed a buzzer-beating triple from Mason McIntosh to advance.
"It's been our dream since day one," McIntosh said. "We've been doing it since we were little, since we could walk and talk. It's a great feeling.
McIntosh, a sophomore, is the only non-junior in the starting lineup scheduled for this week. He is joined by Mason King, Koleson and Sage Evans and Brady Melby. King is the team's leading scorer with 15.4 points per game while Koleson Evans is averaging 14.4 points and 9.7 rebounds. Sage Evans filled the boxscore with 13.4 points, 14.0 rebounds, 6.3 assists and 3.4 steals per game.
"With this junior group, I started coaching them in kindergarten," Coach Evans said. "My dad and I used to take them to the state tournament to watch games every year. I said, 'Hey, if we keep working hard, we're going to get there,' and damn it, we're there.
Melby added 5.9 points per game while junior reserve Walker Rife is at 6.3 per game and McIntosh is averaging 5.1. Freshman Nolan Birdsall is another key reserve for the Hawkeyes' success this year.
To defeat Remsen, St. Mary's, West Harrison will likely need to fire on all cylinders. Few will expect the upstart to make a splash in Des Moines, but that's how they like it.
"We're going to have to have that underdog mentality like (against AHSTW)," Sage Evans said. "Hustle, win every ball 50-50."
"We have the opportunity, so we better make it happen," McIntosh added. "Just keep playing our ball, keep sharing it and keep scoring. Just play great defense. Defense leads to attack.
Tune in to West Harrison/Remsen St. Mary's Class 1A Quarter-Final on KMA-FM 99.1 Monday afternoon at 3:45 p.m. Check out our Know Your Opponent on Remsen St. Mary's feature linked here.