Women's History Month: More women are joining the trucking industry | Best Stories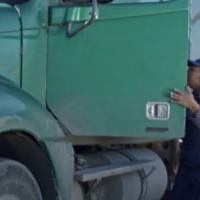 DECATUR, Ill (WAND) — According to Women in Trucking, women make up about 10 percent of truck drivers in the United States. That's a 2% increase since 2019, proving that more and more women are getting into male-dominated fields.
"My father always said me, they will always need truckers," said Trina Banks, an ADM driver who earned her CDL certificate at Richland Community College.
"It's a great job. Once you're in the field, as long as you keep your CDL clean, you can go anywhere and get a job," Banks said. She has has always enjoyed being on the road and says this career for her made sense.
"It's a beautiful full world out there. I learned a lot of ways to get around, to see a lot of beautiful land, houses, different things, countries…" Banks said.
Richland College CDL coordinator Nick Gorenz said he enjoys encouraging women to join the field.
"There's nothing in trucking that women can't do… I am quite proud to say, since 2018 I've had 30 women who have gone through 20 got their CDL.
As a former trucker himself, he saw the growth first hand. He says now more resources are keeping women in the field. The Woman's Coalition of the Illinois Trucking Association is doing just that.
"We're out there, we want them to know you can do it. You can drive the truck, you can fix something, you can be a mechanic, you can do all of that so generally in a work setting , there just aren't many women in the trucking industry," said Dana Achartz of the coalition.